Experience.
Skills. Results.
Aggressive.
Honest.
Direct.
Former
Chief Deputy
Prosecuting
Attorney
Experience. Skills. Results.
Aggressive. Honest. Direct.
Former Chief Deputy Prosecuting Attorney
The Wilkinson Law Firm is a unique full service law firm that serves the specialized needs of each client. The attorneys are Shane Wilkinson, Michael Armstrong, Rachel Bush and Randall Wakefield. Each attorney is focused and dedicated to specific practice areas. The Wilkinson Law Firm has an outstanding reputation for aggressive representation and results.
Shane Wilkinson
Mr. Wilkinson is one of the very few attorneys in the Northwest Arkansas area whose practice is solely dedicated to criminal law. He has a vast amount of courtroom and jury trial experience and is known for his very successful track record in the courtroom. Mr. Wilkinson has given numerous statewide and national lectures to 100's of attorneys from over 40 states on how to handle various aspects of criminal cases. He is the former Chief Deputy Prosecuting Attorney for Benton County, AR where he served as second in command at the prosecutor's office of 17 attorneys for a number of years. Mr. Wilkinson has handled every type of criminal case imaginable at the State and Federal levels ranging from Capital Murder cases to misdemeanors. This includes all types of homicides, various white collar crimes, aggravated robberies, kidnappings, all types of drug cases big and small, DWI's, and many other cases.
Michael Armstrong
Mike Armstrong is an attorney with Wilkinson Law Firm practicing in the areas of family law, paternity, divorce, child custody, guardianships and criminal law.  Mike has handled many contentious divorce and custody cases, as well matters involving large marital estates, with great success. He is known as a tenacious litigator, and has a reputation for courtroom success, yet will always make attempts to settle cases for his clients, knowing that a settlement most often leads to the best outcome for families who must continue to find ways to coexist after divorce.  Mike began his career in civil practice in Fayetteville, AR and Rogers, AR before joining the Benton County Prosecutor's Office.  While there, he served as the Child Sexual Abuse Prosecutor, and his practice focused solely on the prosecution of sex crimes against children, and he handled several jury trials and oversaw dozens of felony sex abuse convictions.  He is a member of the American Bar Association, the Arkansas Bar Association, and the Benton County Bar Association.
Rachel Bush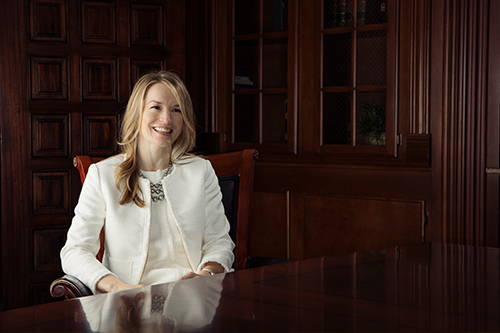 Ms. Bush is one of the very few lawyers in Northwest Arkansas that has devoted her practice to immigration related cases, and her background is extensive. Ms. Bush worked for the Department of Justice and clerked for a Federal Immigration Judge in Memphis, Tennessee, one of the courts that hears immigration cases from Arkansas and others states surrounding Tennessee. During her time at the Immigration Court, part of the Executive Office of Immigration Review, Ms. Bush read pending cases, researched case law and legislation, wrote decisions of the Immigration Judge, and assisted with the administrative functions of the court.
Ms. Bush has successfully represented clients in the Dallas, Kansas City, and Memphis Federal Immigration Courts, where her clients have been granted relief from deportation, including termination and administrative closure of removal proceedings, granted legal permanent resident status, or retention of their green cards in the U.S. Ms. Bush has also won appeals to the Board of Immigration Appeals, BIA, for clients who had previously been ordered to be deported in Immigration Court. She also regularly represents clients in a wide variety of applications with the United States Citizenship and Immigration Services offices, USCIS, with an exemplary record of approvals.
Ms. Bush is also multi-lingual and has worked with clients from all over the world. She is known for her diligence, perseverance, and passion for representing her clients and their families. She has a reputation for her knowledge of the complexities of the immigration laws and knowing how the process applies best for each family. She has been a member of the American Immigration Lawyers Association since 2011, and is always up to date on the constantly changing immigration laws, policies, and benefits to best serve her clients' interests.
Randall Wakefield
Mr. Wakefield's practice areas include civil and commercial litigation, family law, criminal defense, personal injury and wills.  Mr. Wakefield has extensive experience litigating cases involving contract disputes, non-compete agreements, trade secrets, construction defects, real estate and landlord tenant disputes, tractor-trailer accidents, cargo claims, guardianships, products liability, condemnation cases, and personal injury.  In addition, Mr. Wakefield has handled many contentious divorce cases involving substantial assets, child custody, child support, and spousal support with great success.  Mr. Wakefield is also one of the few attorneys in Northwest Arkansas who has a great deal of experience representing motor carriers in cargo claims and has attended extensive training relating specifically to this unique area of the law.  Mr. Wakefield began his career with the law firm of Everett, Wales and Comstock located in Fayetteville, Arkansas and joined the Wilkinson Law Firm in July of 2012.  He earned his undergraduate degree in Criminal Justice and his law degree from the University of Arkansas in Fayetteville.
The Wilkinson Law Firm is based in Bentonville, AR and handles cases all over the State of Arkansas. The Northwest Arkansas region is the firm's primary practice area including: Bentonville, AR, Rogers, AR, Fayetteville, AR, Springdale, AR, Bella Vista, AR, Eureka Springs, AR. The Wilkinson Law Firm regularly accepts high profile cases from all over the State of Arkansas.